Energy Meter BIS symbols for single phase and three phase EM Shown in Figure.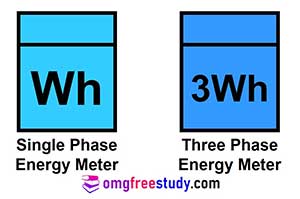 Precautions while energy meters installation
Energy meters should be used which are tested and approved by the local electricity board authorities only.
Energy meters should be used in vertical position only, not in inclined or horizontal position.
Connections for incoming and outgoing supply terminal should be make according to the manufacturer's instructions. Or connection diagram which will be available on the inner side of the terminal plate of the energy meters.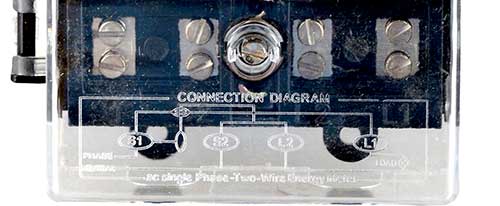 NE (National Electrical) code of practice and IE rules for energy meter installation
Energy meters shall be installed at such a place which is easily accessible to both the owner of the energy meter and the authorized representatives of the supply authority.
It should be installed at a height not below 1 m from the ground, where it is convenient to note the meter reading.
The energy meters should either be provided with a protective covering, enclosing them completely.
It should be mounted inside a completely enclosed panel provided with glass window through which the readings are noted.
Any meter placed upon the consumer's premises shall be of appropriate capacity and its limits of error do not exceed 3% above or below absolute accuracy at all loads.
In earlier domestic installations the service mains were brought inside the consumer premises and first connected to the IC (incoming) cut-outs, then to the energy meter and after the consumer main switch.

However, to avoid electricity theft, certain electricity boards decide that the service connections should first connected to the energy meter, then to the IC cutout and then to the consumer main switch.

General instructions for energy meter
The body of the energy meter should be earthed to the general earth using a proper size of earth continuity conductor depending upon the current capacity of the installation.
For multistage buildings which consist of a number of offices or commercial centers or flats occupying various areas, the electrical load for each of them is separately by separate energy meters. In such cases, all the energy meters are located in a meter room which is normally situated on the ground floor of building.
MCQ Questions PDF for Module 9: Wiring Installation and Earthing
IE Regulation for main switch and distribution board.
Energy meter board installation.
Estimation and cost of material for wiring installation.
Testing a domestic wiring installation – location of faults – Remedies.
Earthing – Types – Terms – Megger – Earth resistance – Tester.
Download MCQ Questions  PDF of Wiring Installation and Earthing
This MCQ Question Is Taken From Bharat Skill Website Published By NIMI.
Objective questions on the above topics explain in the video on YouTube.