For almost all of CIVIL engineering work need cement. Because cement is the most important raw material for civil engineering. But number of people don't know how cement can be stored at site?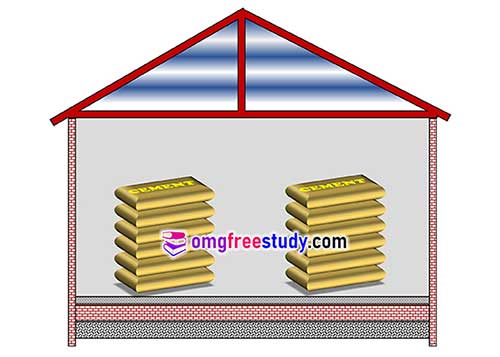 Storing of cement on site:
Question:  State the precautions to be taken while storing cement at site?
Precautions should be taken while storing cement on site are as following:
1. Before the storage the cement at site ensure that the separate industrial shade.
2. Cement should be stored in a special water-tight shed with a dry and damp proof door, waterproof walls and leak proof shade.
3. Building should be with 150 mm concrete floor and 230 mm brick walls.
4. For ventilation there should be exhaust fans and Windows.
5. Bags should be stored in such a way that received first should be used first.
Question:  How many maximum bags should be stack while storing cement at site?
6. The stacks of cement bag should be placed at a distance of at least 30 cm from walls with 1 m gap between two rows for easy handling.
7. Bags should not be stacked more than 8 to 10 bags vertically.
8.Width of stack should not exceed 3 m.
9. Stacking should be lengthwise and width wise alternatively.
How to Stored Cement, read on Birla A1 cement website.
Effect of storage of cement on properties:
Question: Explain the effect of storage of cement on properties of cement?
1. Due to long storage of cement, cement loses its strength, cement becomes lumpy and due to its loss of capacity for hydration, becomes unusable.
2. When a sealed bag of cement is opened, oxygen in air starts reacting with the ingredients as well as the humidity in the air starts reactions with the ingredients.
3. It is advisable to use cement stored within 3 months at the maximum.
The strength at different time periods are as following-
Cement fresh form factory – 100% strength
| | |
| --- | --- |
| Cement | Reduction In Strength |
| Fresh | Nil |
| After 3 Months | 15% |
| After 6 Months | 25% |
| After 1 Year | 40% |
| After 2 Years | 52% |